Developing more effective and long-lasting waste management systems begins with understanding why the ones we currently have don't work. There are a number of IoT-related technologies that can help identify problems in the process of improving.
1. Smart Waste Bins
Unsupervised, the general public is not always conscientious about sorting their trash and recycling it properly. Bin-e, a company based in Poland, has created a smart waste bin which uses recognition accuracy to automatically separate recyclables into separate sections in order to reduce the amount of waste that goes to landfills. The machine compresses waste after it has been sorted and keeps track of how full each bin is.
It is simpler for recycling facilities to process recyclable materials when human error is eliminated from the initial sorting, thanks to the use of smart waste bins. Reduce the waste management costs by up to 80% and significantly improve employee productivity with this method of waste disposal.
2. Waste Level Sensors
Across the country, residents and businesses rely on regular waste management services to remove their trash. Despite their long history, weekly services may not always be the most cost-effective option.
Waste level sensors can be installed in bins and dumpsters of any size in order to reduce the number of trips to / from landfills. As a result of these devices, waste collection services are able to anticipate how often bins will need to be emptied. Another benefit of using this method is that it prevents public containers from overflowing, which can lead to pollution in the area.
3. AI Recycling Robots
In order to keep landfills and waterways clean, recycling centres play an important role. However, COVID-19 pandemic has resulted in many centres struggling to keep up to demand due to a reduced workforce. Fortunately, AI-powered recycling robots can step in to help with the workload.
Recyclable materials can now be accurately identified and sorted by these robots, reducing this need human labour. This not only will save recycling centres money in the long run, but it also diverts waste from landfills.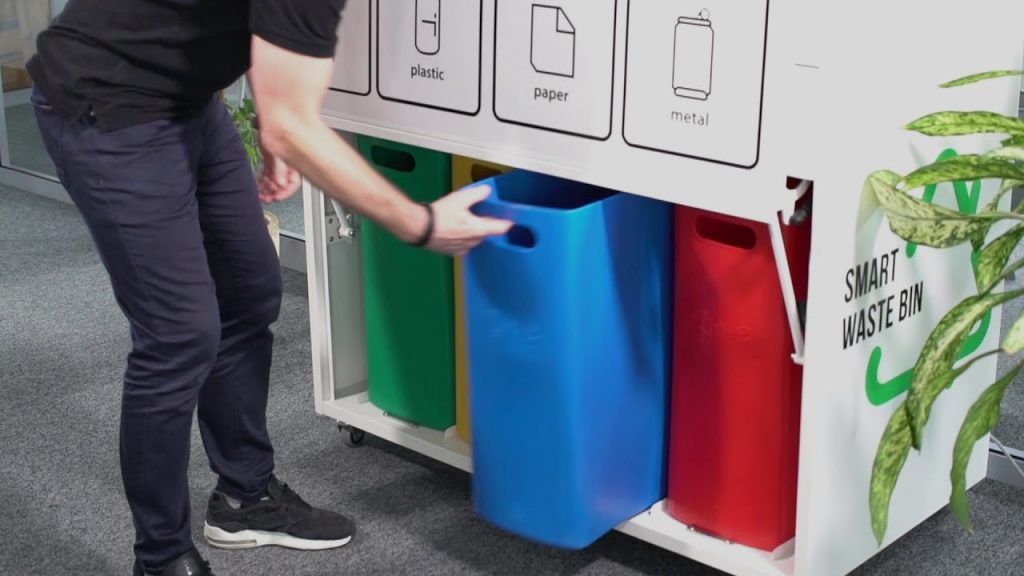 4. Garbage Truck Weighing Mechanisms
It is possible to reduce collection trips by installing weighing mechanisms in garbage trucks in addition to waste level sensors. They do this by weighing waste containers and storing the results, which they then use to forecast how full the containers will become over time. Used the technology to better predict the frequency of trash pickups and reduce annual costs for municipalities.
5. Pneumatic Waste Pipes
There is a growing demand for waste management systems that can handle more trash as the population of urban areas grows. Pneumatic waste disposal trash cans linked to a network of underground pipes are being installed in some cities to meet this challenge. Trash is transported via pipes to a disposal facility, where it is separated and either recycled or hauled away. Traditional waste collection is eliminated, energy costs are slashed, and overall efficiency is boosted by this new technology.
6. Solar-Powered Trash Compactors
Waste compactors powered by solar energy were developed by Ecube Labs to help improve collection efficiency and cut down on trips to and from the dump. They receive and transmit data on fill as well as collection times and compress trash because it accumulates to help streamline a collection process.
7. E-Waste Kiosks
Inappropriate disposal of electronic waste can be harmful both to people and the environment. It's good news that many companies and organisations have began e-waste recycling programmes that will accept or even reimburse you for old electronic devices.
EcoATM, a smart recycling company, has taken this idea a step by further creating a line of e-waste recycling that allow you to transfer your electronics for cash right there and then. Broken or destroyed mobile phones, tablets, and MP3 players are all accepted, and all of them are recycled properly.
8. Recycling Apps
One of the most difficult tasks for recycling facilities is sorting through contaminated waste. Organizations have developed apps like RecycleNation & iRecycle to make recycling easier for individuals in an effort to reduce the amount of non-recyclable materials entering these centres. Recycling rates and locations are provided to users, as well as a list of materials that can be recycled, through these apps.